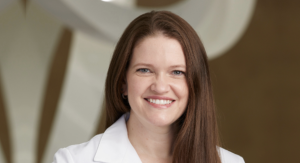 Ascension Saint Agnes Bariatric Surgery program is proudly welcoming Catriona Swift, D.O., Fellowship trained bariatric surgeon, who is joining Drs. Isam Hamdallah and Andrew Averbach on September 1-st, 2021.
Dr. Swift, Doctor of Osteopathic Medicine, has earned her degree at Still University College, Kinksville, MO in 2012 and completed general surgery residency at Genesis Regional Medical Center, Grand Blank, MI in 2017. After practicing general surgery in 2017-2020, Dr. Swift has finished Bariatric and MIS Fellowship at Menorah Medical Center, Overland Park, KS in 2021. She is admitted as a Fellow to ACOS, ASMBS and SAGES, and is board certified.
Dr. Swift has decided to pursue bariatric surgery career due to multifaceted positive impact of bariatric surgery has on the lives of her patients: reversing chronic diseases, improving quality of life and wellbeing. Being passionate about bariatric surgery, Dr. Swift has been trained in both laparoscopic, robotic and endoscopic techniques and offers:
Duodenal Switch
Gastric Bypass
Sleeve Gastrectomy
Revisional bariatric surgery
Endoscopic weight loss procedures
Surgical treatment of GERD, hiatal hernia and achalasia.
Dr. Swift is joining Ascension Saint Agnes Bariatric Surgery program that for remarkable track record for the past 20 years treating over 10,000 patients. Our program maintains uninterrupted credentialing since 2006 by MBSAQIP of ACS/ASMBS and is designated as Center of Excellence by BC/BS, United, Cigna and Aetna.  Our comprehensive team of weight loss professional, including surgeons, certified bariatric nurses, care coordinators, surgical dietician and psychologists, works together with one goal in mind – to help bariatric patients get back to a happier and healthier life.
To provide our patients with best and most helpful bariatric surgery experience, we now offer every step of the preparation process in both traditional and virtual format, including:
Webinar and seminars
Virtual and live initial consults
Dietician education
Behavioral assessment
We are looking forward to providing safe and effective bariatric surgery care for your patients.
Ascension Saint Agnes Bariatric Surgery team.
---
Dr. Swift earned her medical degree AT Still University, Kirksville, MO in 2012. She then went on to complete a  general surgery residency through Michigan State University at Genesys Regional Medical Center, Grand Blanc, MI in 2017, where she was also named Chief General Surgery Resident. From 2017-2020, Dr Swift treated patients at North Carolina Surgery-UNC Rex Healthcare and Wilson Medical Center as a general surgeon, where she also served as Vice Chair for the Department of Surgery. Dr. Swift then decided to further her education and training through a Bariatric and Minimally Invasive Surgery Fellowship at Menorah Medical Center, Overland Park, KS. She is board certified by the American Board of Osteopathic Surgery.
Dr Swift is trained in laparoscopic, robotic, and endoscopic techniques and offers duodenal switch, gastric bypass, sleeve gastrectomy, revisional bariatric surgery, endoscopic weight loss procedures, and surgical treatment of GERD, hiatal hernia, and achalasia. Throughout her educational career, Dr Swift has received numerous awards and honors for her contributions to pre and post-doctoral educational programs, her outstanding service in the studies of exercise and health sciences, and her high degree of service to her community.  Dr Swift also actively publishes on a variety of subjects, including bariatric surgery, laparoscopic surgery, postoperative discomfort, and weight loss among many other topics.